So it is that Time of the year again. All us Industry peeps get ready for a week long adventure into vegas. And what is it for??  SEMA!!!  The largest Automotive OEM/Aftermarket Parts Show in the world.  But anyways.The fun part is what happens after the show each day. We Run back to our rooms eat, shower up and get ready for the  Open Bars + Models and the craziness !!   So  with that here are some of the parties going down that week.
Formula Drift Party X Spocom and looks like a ton of models will be there.

Motion x Falken Looks like more hot models AND BIG ABES BDAY!!  make sure to destroy!
Rides x Antenna
Dsport x Mackin  Xs!
Not quite sure what this is.. but this is goin on as well.. and Janelle looks like shes hosting!
Savini wheels  Now this looks pretty intersting. Is it the whole hotel????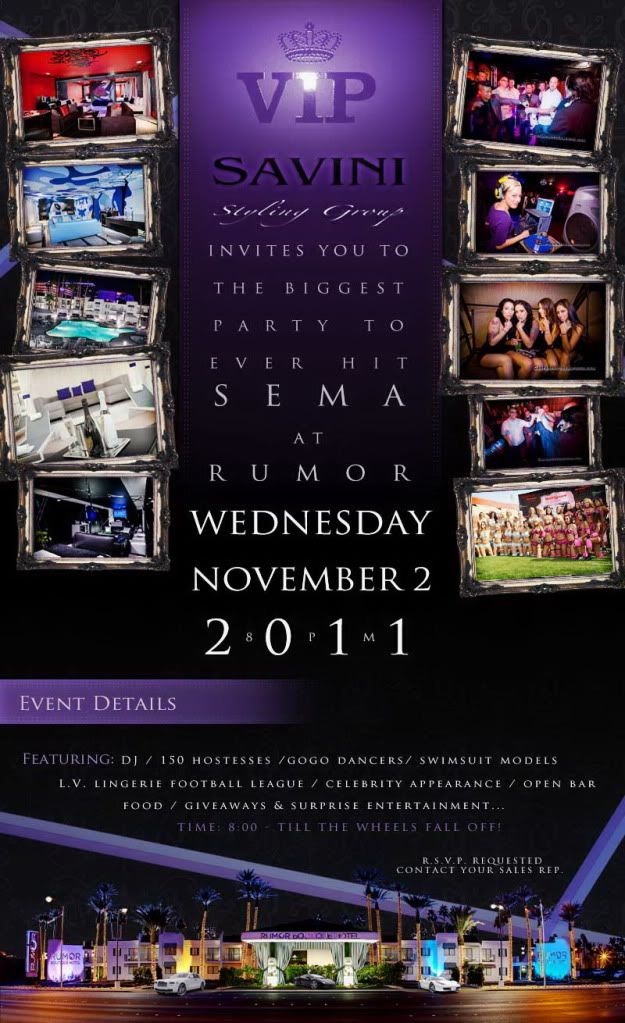 For the peeps who will be in Downtown LV heres this presented by Hawk x Neuspeed
Not really a after party but more of a Meet. Vip car meet thrown every year should be exciting if the party life isnt for you.
heres the SCION party!!
Highline Auto party
HIN party
Mfest party