This weeks Mixtape is for the Ladies !
The original No Dudes Allowed was released fittingly on Valentines Day. A tribute to the ladies packed with the most classic female vocalists of all time updated into a modern world of electro, progressive, and pop-house music. Fittingly, SmithAgentSmith has released the sequel No Dudes Allowed 2 on Thanksgiving, beginning with a vocal from Christina Aguilera's classic pop hit "What a Girl Wants." It seems that from the feedback of No Dudes Allowed, Smith knows what the girls want. More music, less dudes.

No Dudes Allowed 2 is longer, and packed with more music. With the same high energy style as the original, NDA2 is a no brainer for ladies preparing for the party. Brtiney, Christina, Ellie, Adele, Janet, Beyonce, Madonna, Eva, Rihanna, and many many more. 66 songs total packed into 58 minutes of the best of the best from female vocalists. View the tracklist and press play. Before you know it, you'll have a smile on your face while dancing in the mirror, an hour will pass and this mix will end. Feel free to press play again. Noone will blame you.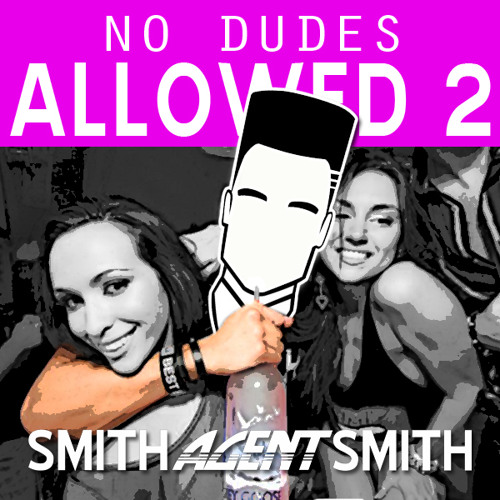 TRACKLIST:
1. Christina Aguilera – What a Girl Wants (acapella)
2. Kaskade ft. Mindy Gledhill – Eyes
3. Jessie J – Domino (Acapella)
4. Steve Aoki – Ladi Dadi (Tommy Trash Remix)
5. Alicia Keys – Diary (acapella)
6. Wolfgang Gartner – Love & War
7. Calvin Harris ft. Florence Welch – Sweet Nothing
8. Ellie Goulding – Lights (acapella)
9. Hard Rock Sofa & Squire – Just Cant Stay Away
10. Demi Lovato – Give Your Heart A Break (acapella)
11. Rihanna – S&M (acapella)
12. FM ft Cover Drive – Turn Up the Love (R3hab Remix)
13. Janet Jackson – Alright (acapella)
14. EDX & Nadia Ali – This is Your Life
15. Beyonce – Sweet Dreams (acapella)
16. Medina – You And I (acapella)
17. Leventina – Champagne Nights
18. Robin S – Show Me Love (acapella)
19. Robin S – Show Me Love
20. SWV – Weak (acapella)
21. Moloko – Sing It Back (Andy Caldwell & Michael Teixeira Remix)
22. Adele – Set Fire to the Rain (acapella)
23. Kaskade ft. Rebecca & Fiona – Room For Happiness
24. Kaskade ft. Haley – Dynasty (acapella)
25. Kaskade ft. Haley – Dynasty (Dada Life Remix)
26. Janet Jackson – Miss You Much (acapella)
27. Kaskade ft Rebecca & Fiona – Turn It Down (Le Castle Vania Remix)
28. Kaskade – Move For Me (acapella)
29. David Guetta, Nicky Romero, Sia – Wild One Two
30. Katy Perry – Firework (Acapella)
31. Ellie Goulding ft. Calvin Harris – I Need Your Love
32. Ellie Goulding – I Need Your Love (SmithAgentSmith Remix)
33. Britney Spears – Toxic (acapella)
34. Eurythmics – Sweet Dreams
35. Destiny's Child – Lose My Breathe (acapella)
36. Will.I.Am ft Eva Simons – This is Love (SmithAgentSmith Remix)
37. Britney Spears – Till The World Ends (acapella)
38. Britney Spears ft. Nicki MInaj – Till The World Ends Remix
39. Zedd – Spectrum
40. Enur ft. Natasha – Calabria (acapella)
41. Dirty South, & Thomas Gold ft. Kate Elsworth – Eyes Wide Open
42. Adele – Rumos Has It (acapella)
43. Chuckie & Promise Land – Breaking Up
44. Eva Simons – I Don't Like You (acapella)
45. Eva Simons – I Don't Like You (Nicky Romero remix)
46. Zedd & Lucky Date ft. Ellie Goulding – Fall Into the Sky
47. Madonna – Music (acapella)
48. M-3rox, Heidrun – Beating of My Heart (Matisse & Sadko remix)
49. Cobra Starship ft. Sabi – You Make Me Feel (acapella)
50. Rihanna – Only Girl in the World (acapella)
51. Kaskade ft. Haley – Llove (Dada Life Remix)
52. Maroon 5 ft Christina Aguilera – Moves Like Jagger (acapella)
53. Ce Ce Peniston – Finally (Mord Fustang remix)
54. Nicki MInaj – Pound the Alarm (Reidiculous remix)
55. Sak Noel – Loca People (acapella)
56. Sak Noel – Loca People (Alvaro remix)
57. Ke$ha – Die Young (Mike Gloria remix)
58. Nervo vs. Hook N Sling – Reason
59. Marina and the Diamonds – Primadonna (acapella)
60. David Guetta ft. Sia – She Wolf (Falling to Pieces)
61. Steve Aoki/Afrojack ft Miss Palmer – No Beef (acapella)
62. The Str8jackets & Sam Obernick – Love and Oxygen (Dubvision Remix)
63. Rihanna – Don't Stop The Music (acapella)
64. Deniz Koyu ft. Wynter Gordon – Follow You
65. Aaliyah – 4 Page Letter (acapella)
66. (reprise) Kaskade ft. Mindy Giedhill – Eyes
Check out more from Smith AgentSmith
Tumblr
Download the Mixtape to your iPod/iPhone/Android device/MP3 player etc…
Share it with friends.
Just Enjoy the Music. 
Want your Mixtape featured on MIXTAPE MONDAY?
Send an email with a link to your mixtape to MITT.MIXTAPE@gmail.com